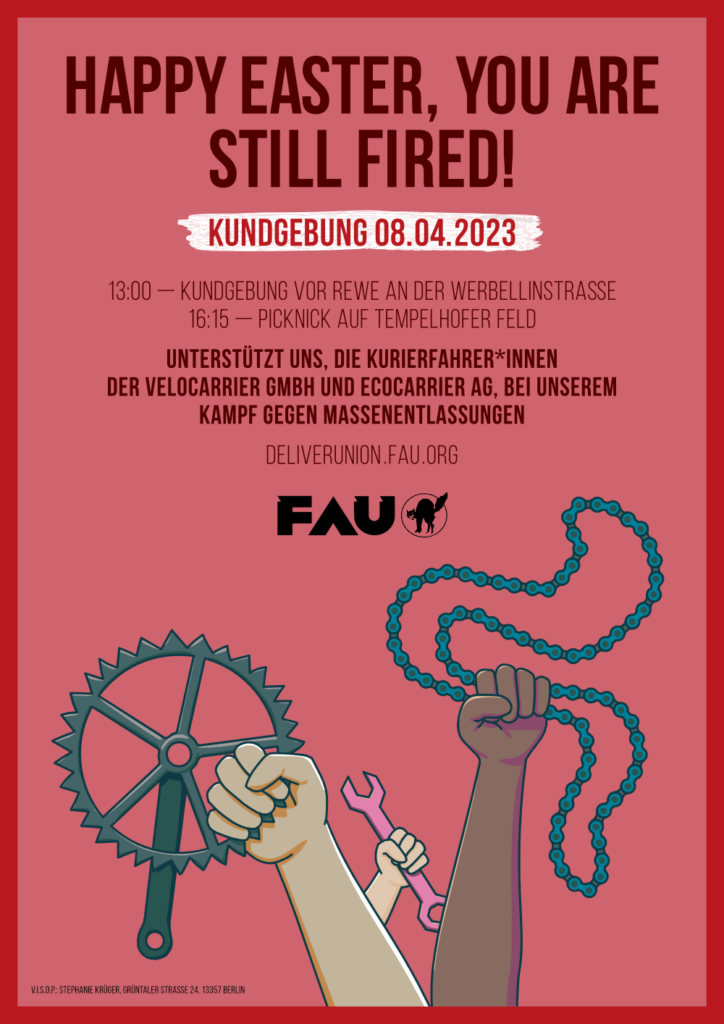 After promises in November 2022 of safe jobs, functional bikes, and new working facilities, the workers at ecoCARRIER AG and Velocarrier GmbH began 2023 with a rude surprise: a mass termination.
Following months of poor management from Stuttgart, working conditions in Berlin went from bad to intolerable. The failures of management cascaded into issues with clients and the company owners heaped their faults onto the backs of workers.
Workers organized to demand basic considerations and in response management outsourced all deliveries, claiming to close operations in Berlin.
Our demands are simple: Management must pay for the promises they made to workers. Their failures should not be the burden of workers. Severance pay is the least they can do. Following hearings in labor court, management agreed to collective negotiations with the workers and the FAU.
However, until a binding agreement is in place, we will not be silent!
When: Sat 08.04.2023, 13:00-16:00 Uhr.
Where: in front of REWE, Rollbergstr 59 (Neukölln).
Followed by gathering for picnic at Tempelhofer Feld.
Join us to support workers demanding fair treatment!